Why Using A Laundromat Is Great For Time Management, The Environment, & Financial Planning
Many people think of laundromats as a place to go only if you don't have your own washer and dryer in your home or apartment. Laundromats offer several significant advantages over in-home laundry. This article will review the main benefits of using laundromats over in-home laundry systems. Choosing to use a laundromat may not be for everyone, but if you're ready to save some time, get great results, keep your laundry costs predictable, and contribute to environmental protection, then using a laundromat may be for you.
Laundromats Save You Time
One of the biggest advantages of using a laundromat is that you'll have an array of washing machines to choose from, with many different capacities. Laundromats typically have washers ranging in size from 20 lbs. to 65 lbs. capacities. This offers you the ability to do all your laundry loads at one time, rather than sequentially, which is a huge time saver.
However, keep in mind that just because a laundromat has large capacity machines, that doesn't mean you should cram all your items into just one washer. Regardless of the size of the washer, you should only fill it about half to three-quarters full. To work effectively, washers need enough room in the drum for the clothes to tumble against each other to get clean. If you fill a washer too full, you'll impede its ability to remove dirt and stains.
Laundromats also make it easy to select the right tool for the job. For example, if you are washing fine or delicate items, consider separating them from the rest of your laundry and using one of the smaller washers set on the delicate cycle. Conversely, the largest washers in a laundromat are great for heavy items like bulky blankets, quilts, comforters, and pillows.
Once your laundry is loaded into the appropriately sized washers, you can relax while your laundry goes through the cycles. Read a book, play a game on your phone, or catch up on correspondence. The laundromat is a relaxing place to be while you wait for your clothes to finish.
Then, once everything is dry, use all the clean, spacious tables for organizing, folding and stacking. It really doesn't get any easier or more relaxing!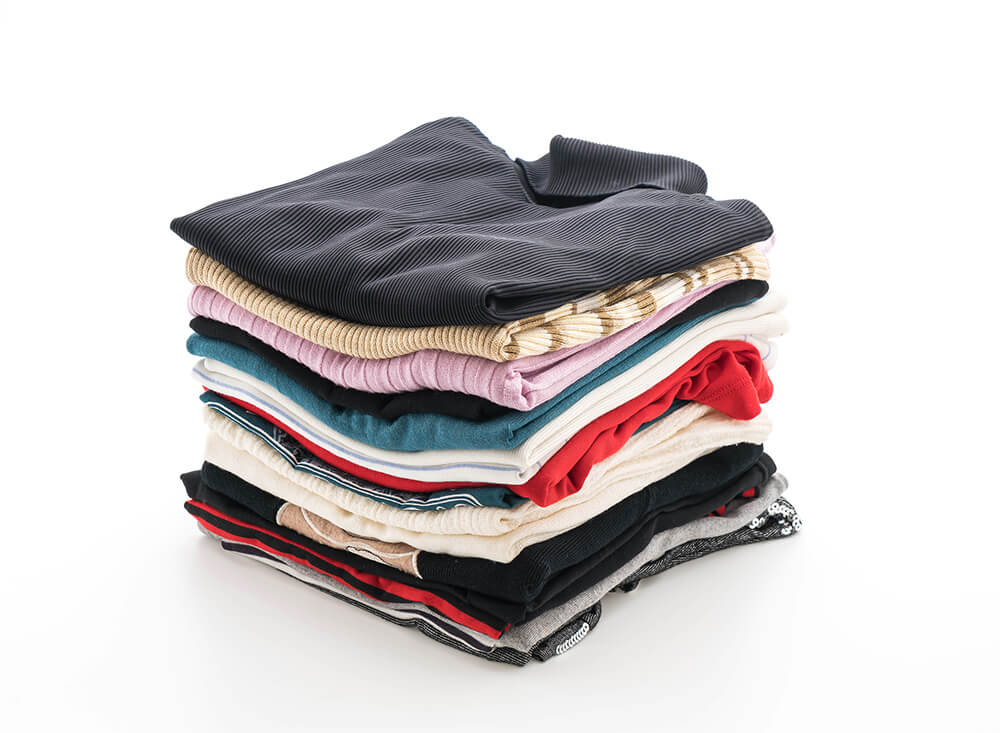 Laundromats are easy and high-tech
Today's laundromats have incorporated modern payment systems. This means you do not have to gather stacks of quarters, or dollar bills to put in a cash changing machine (although change machines are sometimes still an option for those who prefer cash).
Today's laundromats take credit cards, debit cards and EBT. Just download the payment app onto your phone and you can pay cash-free. These apps not only take payments, they also allow you to check your balance, print your receipt and get notified on your phone when the machine is finished! This is a huge convenience that allows you to leave the laundromat to run a quick errand, and return just at the right time when your laundry is done.
Laundromats also make it easy for you by having multiple types of detergents available for your various laundry needs. Rather than having multiple bottles cluttering up your house, you can purchase a mix of small amounts of different laundry products. For example, Sundance Laundry offers time-tested detergents such as Tide, Cheer, and Wisk, but they also offer natural and eco-friendly detergents, and dye-free options too. Choose what you need for that day's wash and don't worry about storing it in your home.
Laundromats also have other products available for your laundry day, such as softener, laundry bags, and bleach for sale through dispensers.
Laundromats Are Better For Your Clothes
Laundromats have professional grade machines which use extra-filtered water that is at the optimal pH. This guarantees that your clothes will emerge clean and soft. By contrast, your home washer has to use whatever type of water your home has, which might be very hard. About 85% of US homes have hard water.
Hard water has a high mineral content that is caused by water sources that flow through certain types of rock (like limestone) and soil. Hard water has a pH over 7.
Hard water results in quite a few laundry problems:
Hard water interferes with the chemical action of the detergent, meaning you will have to use extra detergent to get things clean.
Hard water leaves a residue on your clothes which, over time, traps dirt and makes it harder to get your clothes clean.
Hard water leaves mineral deposits on your clothes and can make whites look less bright.
Hard water makes your clothes stiff and unpleasant to wear.
Hard water can result in skin irritation for people who are sensitive, because of the residue that remains on the clothes.

Hard water can be resolved at home through installing a water softener, but this is an expensive piece of equipment, ranging from $500 to $6,000, which is a lot of money just to get your clothes clean. Plus, the water softener requires on-going expenses for salt, and the inconvenience of having to monitor the salt levels and replenish regularly. What is the solution? Go to your local laundromat for the best quality water to clean your items.
Laundromats Are Better For The Environment
Laundromats need to conserve their use of electricity and water, so they purchase the most high-efficiency machines possible. High efficiency front loading washers use 60% less water than standard top loading washing machines. In addition, the large capacity washers can enable you to wash fewer loads, which also reduces the use of electricity and water. Overall, using less water and electricity is a benefit for the environment.
High efficiency washing machines require high-efficiency detergent which releases fewer contaminants into the wastewater stream. And, speaking of wastewater, laundromats are connected to public sewers which means that their used water is properly treated before being released into our local waterways. Washing machines that are connected to home septic systems run the risk of overwhelming the septic system if too many loads are done in succession. This can cause untreated waste to be released into the septic drain field, which can contaminate groundwater.
Another reason why laundromats are good for the environment is because professional washing machines have an extended spin option which removes as much water from your items as possible. This will reduce time in the dryer, which reduces energy usage.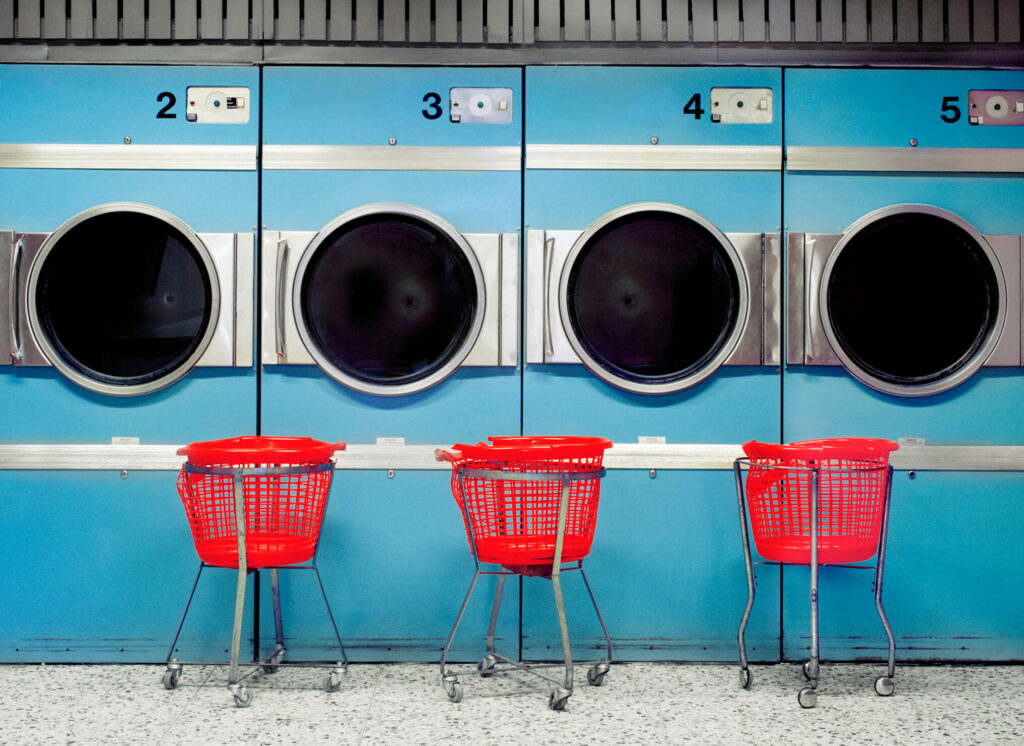 Laundromat Costs Are Predictable
According to Fiscal Tiger, the cost of doing your laundry in a laundromat is about $4.00 per load, while the cost of doing laundry at home is about $2.50 per load. These figures will vary depending on where you live, but at first glance it seems that home laundry is the better deal. However, depending on your budgeting situation and cash flow, it may actually be better for you to use a laundromat.
The main financial argument in favor of laundromats is that washers and dryers cost thousands of dollars to purchase, and will require additional savings to handle the expense of inevitable repairs. By contrast, laundromats push all that purchase and repair expense (and hassle) onto the laundromat owner, so you only pay to wash and dry your items.
Let's outline the basic expenses of an in-home laundry setup.

Purchase expense: Cost estimates for a new washer are about $450 to $3,500, and new dryers run $390 to $3,000. Or $840 to $6,500 for both. Washer/dryer stacked combos, which are smaller than standard units, run about $1,100. The wide range of possible prices is based on these factors:
Quality – How long is the appliance anticipated to last? Low-price appliances will last 7 to 10 years, while expensive brands, such as Speed Queen, can last much longer, roughly 20 years.
Features – Front loaders are more expensive than top loaders. Agitators tend to be more expensive than non-agitators.
Capacity – Larger machines will cost more. Washer capacity runs from roughly 2.5 to 6.2 cubic feet, while dryers range from roughly 3.4 cubic feet to 9.4 cubic feet.
Connectivity – Some washers and dryers are Bluetooth and wi-fi enabled so that you can run them from apps on your phone. This will increase the price.
Energy efficiency – While modern most washers and dryers are going to be energy efficient, you'll pay a premium for the most energy efficient machines, which are referred to as HE models.
Configuration – Side by side machines are more expensive than combo stackable units.
Finishes – Stainless steel will generally cost more than enamel finishes.
Gas vs. Electric – Gas dryers will cost about $100 more than an electric model.

Buying your own washer and dryer requires a significant up-front investment that not every family can afford. And, of course, if you live in an apartment or condo without a laundry hookup, having an in-home laundry may not even be an option.
In addition to the purchase price, in-home laundry requires that you have cash on-hand for repairs.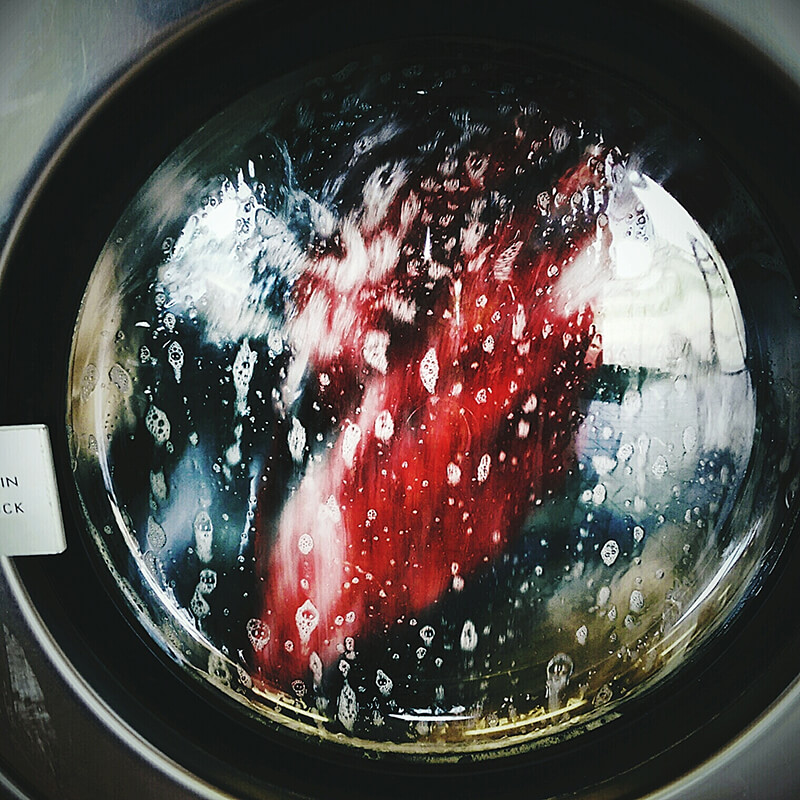 Repair expense: We all hope that our appliances will last for years and be trouble-free, but that is not often the case. Typical repair issues that crop up with washing machines include:
Control panel not working
Water not draining from drum
Washer vibrating loudly and/or moving across the floor
Leaks on the floor
Not spinning
A bad smell

Dryers also have common maintenance issues which may include:
Control panel not working
Drum not turning
Heating element not working
Bad smell (most common in front loaders)
Vent blockage – Please note: blocked dryer vents are a fire hazard. Having a professional company clean your dryer vent is important and costs about $150/year.

National averages for repair costs are about $100 – $400 per year for your washer and about $50 to $450 per year for your dryer.
And of course, there are utilities expenses for in-home laundry.

Utilities expense: The costs to run your washer and dryer, including water, electric and/or gas, are estimated at about $50/year for the washer, and about $163/year to run your dryer, or $213/year total.
And, as mentioned above, if your home has hard water, your clothes will not get as clean, will be stiff and rough to the touch, and will develop residues. A home water softening system can cost between $500 and $6,000.
So, while in-home laundry generally works out to be cheaper on a per load basis, it requires a monetary investment that not every family has available. In addition, in-home laundry requires money to be available for unexpected repairs. Conversely, laundromat expenses are completely predicable. There is no cash outlay for purchase and installation, and there will be no surprise maintenance or repair costs. At a laundromat your costs are low on a per week basis. And, the high-capacity machines at a laundromat mean you can probably do fewer loads that you would at home, thus maximizing your laundry cost efficiency.
Conclusion
If you are looking for a local Lancaster County PA laundromat that is spotlessly clean, look no further than Sundance Laundry! Our clean and spacious laundromats will make doing your laundry a pleasure. Our laundromats offer modern payment methods, a wide variety of washer sizes, and extensive tables for folding. Sundance has two laundromat locations, one in New Holland and one on the west side of Lancaster City. Sundance has five car wash locations too. Come visit us today and let Sundance keep your laundry soft and fresh!
TL;DR – Using a laundromat has distinct benefits over in-home laundry.
Washing your clothes in a laundromat saves you time through the availability of a large variety of washer sizes, and dryers, that you can use to do all your laundry at the same time. Today's laundromats are high-tech, with apps that can take your payment digitally and alert you when your laundry is done. Laundromats are good for your clothes because the water is extra filtered and is at the optimal pH. Laundromats are a little more expensive than home laundry on a per-load basis, but with laundromats your costs are predictable and are low on a weekly basis: you'll face no large expense (or hassle) for purchase, installation, or maintenance, as you would for in-home washers and dryers. Finally, laundromats are better for the environment due to lower use of water and electricity.